It seems that Spring is the time for wonderful events for I have yet another timely educational seminar to share with our general counsel readers. "How to Get to the Top and Stay There: Becoming a Leader in Your Legal Department" is part of the monthly Corporate Counsel Roundtable series which my partner, Bill Capps, hosts each month. This month, Bill, who is the chair of JMBM's Corporate Department, teams up with Beverly Weise, special guest and founder of Leadership Talent Solutions, to identify skills that are valued by senior management in General Counsel. Note also that this event is a fully accredited MCLE seminar.
The live event will take place in JMBM's Los Angeles office on March 8 at 7:30am, and we will be videoconferencing the program to our San Francisco office at Two Embarcadero Center, 5th Floor and our Orange County office, located at Three Park Plaza, 11th Floor, in Irvine. Don't hesitate to join us in the office that is most convenient to you. Of course, the seminar is complimentary and parking will be validated! To RSVP, email jh7@jmbm.com.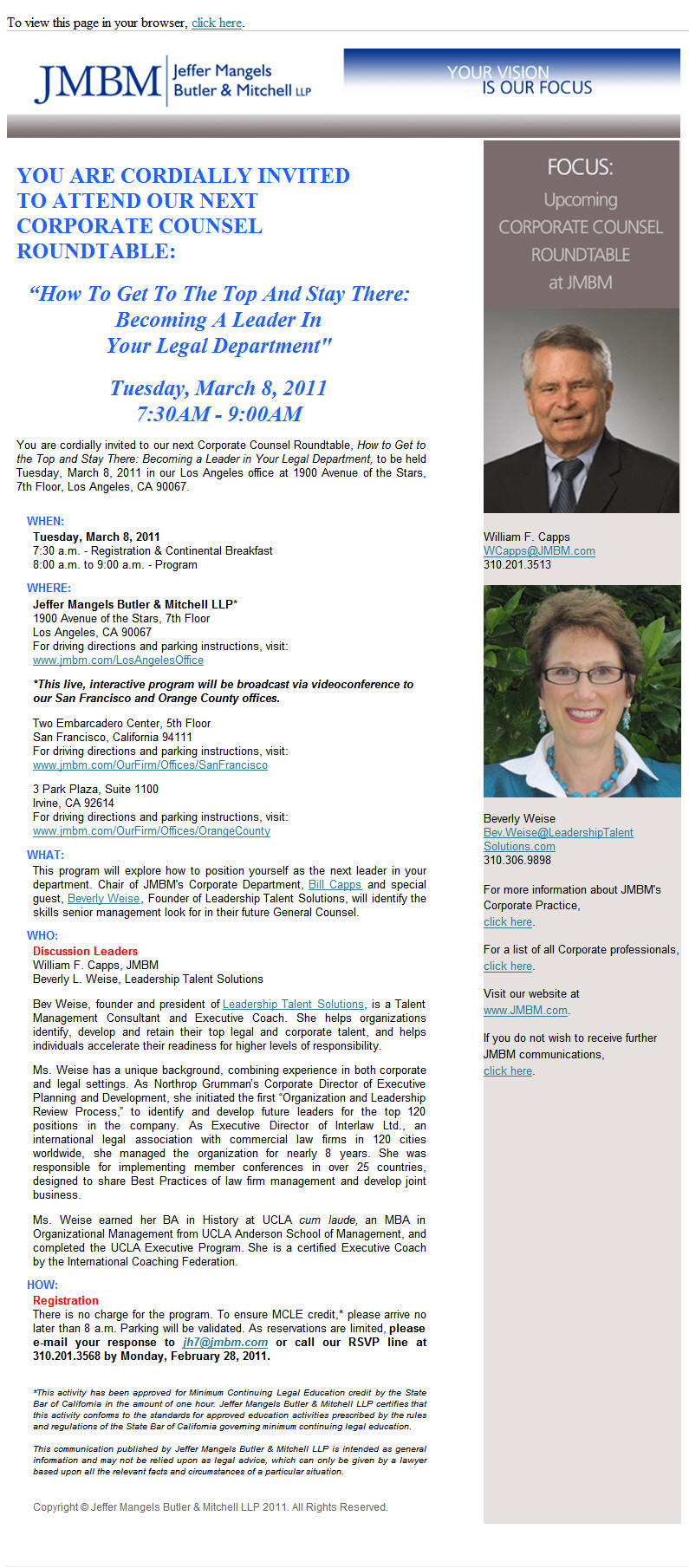 This is Dick Rogan, bank lawyer and author of www.SpecialAssetsLawyer.com, signing off for now. Join us again soon to check out what's new in the World of Workouts.
Year after year, day after day, workout professionals in the know rely on JMBM's Special Assets Team™ to handle problem commercial and real estate loans. Whatever problem loans you have, chances are, we've seen it. Give us a call.
________________________________
Our Perspective. JMBM represents commercial banks, special servicers, private lenders, asset-based lenders, hard money lenders and factors. We help lender clients throughout the United States craft business and legal solutions to their commercial and real estate troubled loans. For more information, please contact Dick Rogan at RRogan@JMBM.com, or (415) 398-8080.
Richard A. Rogan is Chair of the JMBM Special Assets Team™. He also serves as the co-managing partner of JMBM's San Francisco office and co-chair of its Bankruptcy Practice Group.
JMBM's Special Assets Team™ has represented hundreds of lenders in California and throughout the United States. We regularly appear in bankruptcy courts, district courts and superior courts. We are proud to serve as trusted counsel and advisors who look for a business solution and try to help lenders find the best possible resolution for each troubled loan. Whether a loan is being newly documented, restructured or litigated, JMBM's Special Assets Team™ has the skill, know-how and experience to solve your problem in a practical no-nonsense way.
NOTE TO CONSUMERS: As a matter of Firm policy, JMBM does not represent individual consumers who have disputes with their lenders. Many lenders have specialized consumer workout professionals who have the time to help consumer borrowers. There are many fine attorneys who specialize in representing consumers. Individuals with consumer lending problems should contact a lawyer or law firm who specializes in consumer insolvency and bankruptcy in their local area. When in doubt, we suggest you contact your local bar association's Lawyer Referral Service. [For example, see Bar Association of SF or LA County Bar Association Lawyer Referral Services]
JMBM does not provide legal advice to consumers, and cannot respond to consumer inquiries.