A few years ago, the Special Assets Management Association (SAMA) was born in Southern California. SAMA is a member-driven non-profit organization dedicated exclusively to fostering the best practice in the workout arena through continuing education, mentoring, skill sharing and peer support. I hear from my partners and clients in Southern California that SAMA has been quite successful in providing continuing education for workout professionals as well as a platform for workout professionals to network with one another.
SAMA is now coming to Northern California, and I am privileged to be a member of the Event Planning Committee that will be working to get SAMA North off the ground.
Our first event will be a breakfast program in San Francisco on December 8 on "Current State of the Workout" featuring Greg Bloyd of Bank of the West and Seth Moldoff of Wells Fargo Bank. The meeting will be held at Silk's Restaurant in the Mandarin Oriental Hotel at 7:30 a.m. I hope that you can join us that morning to inaugurate SAMA in Northern California.
The Special Assets Management Association is organized to service special assets professionals from financial institutions. The following workout professionals are eligible:
Special assets professionals from financial institutions
Chief credit officers and senior credit officers from financial institutions who actively manage special assets.
Please click the images below to download a flyer and registration form for the Special Assets Management Association event. I look forward to seeing you on December 8!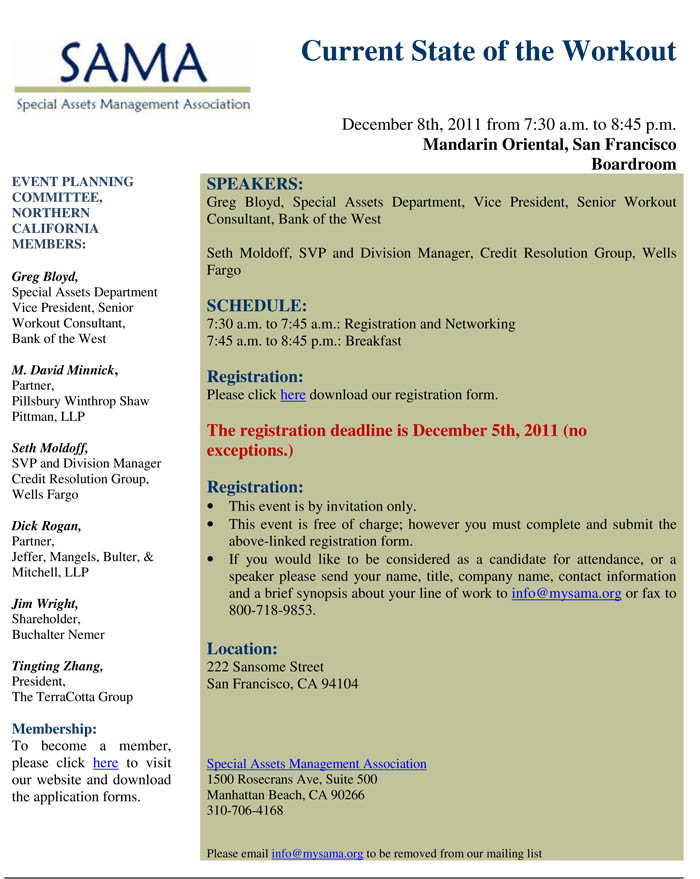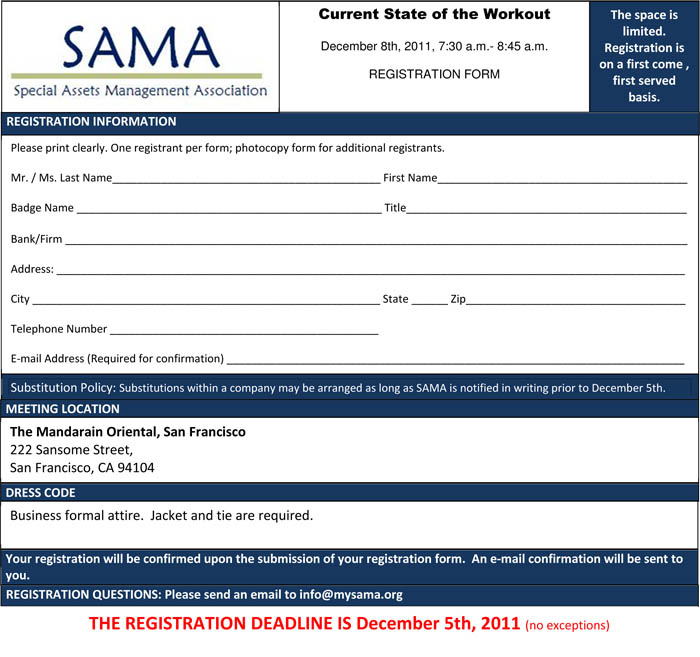 This is Dick Rogan, bank lawyer and author of www.SpecialAssetsLawyer.com, signing off for now. Join us again soon to check out what's new in the World of Workouts.
Year after year, day after day, workout professionals in the know rely on JMBM's Special Assets Team™ to handle problem commercial and real estate loans. Whatever problem loans you have, chances are, we've seen it. Give us a call.
________________________________
Our Perspective. JMBM represents commercial banks, special servicers, private lenders, asset-based lenders, hard money lenders and factors. We help lender clients throughout the United States craft business and legal solutions to their commercial and real estate troubled loans. For more information, please contact Dick Rogan at RRogan@JMBM.com, or (415) 398-8080.
Richard A. Rogan is Chair of the JMBM Special Assets Team™. He also serves as the co-managing partner of JMBM's San Francisco office and co-chair of its Bankruptcy Practice Group.
JMBM's Special Assets Team™ has represented hundreds of lenders in California and throughout the United States. We regularly appear in bankruptcy courts, district courts and superior courts. We are proud to serve as trusted counsel and advisors who look for a business solution and try to help lenders find the best possible resolution for each troubled loan. Whether a loan is being newly documented, restructured or litigated, JMBM's Special Assets Team™ has the skill, know-how and experience to solve your problem in a practical no-nonsense way.
NOTE TO CONSUMERS: As a matter of Firm policy, JMBM does not represent individual consumers who have disputes with their lenders. Many lenders have specialized consumer workout professionals who have the time to help consumer borrowers. There are many fine attorneys who specialize in representing consumers. Individuals with consumer lending problems should contact a lawyer or law firm who specializes in consumer insolvency and bankruptcy in their local area. When in doubt, we suggest you contact your local bar association's Lawyer Referral Service. [For example, see Bar Association of SF or LA County Bar Association Lawyer Referral Services]
JMBM does not provide legal advice to consumers, and cannot respond to consumer inquiries.