JMBM 2010 Real Estate & Land Use Survey
Caution remains the watchword even as bearish sentiment declines
JMBM's 2010 California Real Estate & Land Use Survey gathered data from 98 executives, 49 percent of whom identified themselves as developers and 49 percent as capital providers. Respondents indicating they were "bearish' about the market declined from 22 percent a year ago to 11 percent today. The majority of respondents remain cautious, and their responses indicate that their biggest challenges remain the same as in 2009:
Finding the right opportunities for investment
Protecting existing investments
Acquiring debt
Where are the opportunities?
Finding the right opportunities for investment remains a challenge for executives, though many see the acquisition of distressed assets—including bank-owned properties and loans in the FDIC portfolio—as the best opportunity. Yet many believe that prices for distressed properties are still too high and that lenders are not liquidating fast enough to reset the market.
Many respondents added that those without cash should not bother to look at all. Still, a bit more than half (51 percent) of our respondents think that distressed assets have not yet hit bottom, slightly fewer than last year (54 percent). "There are opportunities in any market,' said one executive, "but timing is everything.'
When will the capital pipeline start flowing?
Acquiring debt: About a third (39 percent) of respondents believe it will be easier to acquire debt in 2010 than it was in 2009, but 49 percent think it will be harder. Eight percent think it will be about the same, with the remaining seven percent abstaining. "Low leverage and strict requirements are the 'new normal,' said one executive. "Lenders are showing signs of slowly healing themselves with internal profits,' said another. "There will be an increased capability to lend.'
Acquiring equity: Forty-four percent of respondents believe acquiring equity will be easier in 2010 than it was in 2009, and 44 percent believe it will be harder. Seven percent think it will be about the same and five percent abstained. "It's the same old story,' said one respondent. "Cash is king.'
How will the FDIC impact the market?
Nearly half (46 percent) of our respondents believe FDIC-accelerated bank closures in 2010 will further damage the real estate market, while 28 percent believe it will help the market rebound. Twelve percent think it will have no impact and 13 percent abstained. "It would help if they sell properties at realistic prices,' said one of the survey respondents. "The FDIC reduces the alternatives, especially for the regional investor,' said another.
Is it a good time to entitle or re-entitle properties?
Forty-six percent of respondents believe that a lack of new applications will get existing projects approved faster, 44 percent believe applicants can be more aggressive with their applications during bad economic times and 43 percent believe that zoning authorities will be more lenient during bad economic times. Still, one respondent noted, "All planning departments have cut staff, so the process has slowed even despite these issues.'
Ben Reznik, Chairman of JMBM's Government, Land Use, Environment and Energy Department agrees with that observation and emphasizes that the processing time for land use applications will continue to worsen as more municipalities face severe budget shortfalls.
What were the effects of the American Recovery and Reinvestment Act (the Stimulus Bill)?
There were few beneficiaries of the Stimulus Bill among the survey's respondents. Fully 95 percent saw no benefit to their business from these federal funds, while 5 percent experienced a benefit.
Ready for growth
"Our survey indicates that developers and capital providers are attuned to the market and very realistic about the current situation,' said Reznik. "But the industry is filled with savvy executives who are successfully steering their companies through this Great Recession and have poised their businesses for growth.'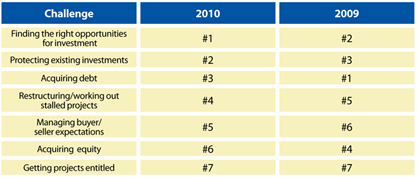 To view the full results of our survey, click here.
We would like to thank our clients and friends who participated in the survey.
To view a PDF of this article, click here.
To see the full Development Rights Newsletter Spring 2010, click here.