JMBM OC Litigation Newsletter Spring 2011
Patent False Marking Claims Prove Largely To Be A Nuisance
Download the PDF: JMBM OC Litigation Newsletter–Patent False Marking Claims Prove Largely To Be A Nuisance
Section 292 of the Patent Statute (Title 35) provides a civil penalty for falsely marking goods as being covered by a patent and imposes a fine of no more than $500 "for every such offense." A Section 292 claim, moreover, can be brought by anyone on behalf of the United States government. Yet, it was not until the Federal Circuit's decision in Forest Group, Inc. v. Bon Tool Co., 590 F.3d 1295 (Fed. Cir. December 28, 2009), that the floodgates of Section 292 claims were opened. In Forest Group, the Federal Circuit held that Section 292 provided for a penalty based on a per article basis rather than on each decision to mark. In other words, the Federal Circuit held that a penalty can be assessed against each product falsely marked rather than a single fine of no more than $500 imposed for falsely marking an entire line of products.
False marking claims typically involve one of two scenarios: (1) an article continues to be marked with a U.S. patent number (or marked with statements to that effect) even though the patent has expired or (2) the article is not covered by any patent and so any marking is false. According to Docket Navigator®, approximately 830 false marking suits have been filed since January 1, 2010 and March 15, 2011. Of those, most of them (i.e., some 60 percent of the cases) were filed in the Eastern District of Texas. As a result of the deluge of Section 292 lawsuits, manufacturers are faced with a dilemma about whether to (1) spend time and money to ascertain whether any patents listed on products actually cover their product or have expired and, if necessary; remove the patent number; (2) remove any patent numbers from all of its products going forward and risk limiting damages in a subsequent infringement lawsuit to the time when an infringer has actual notice of the patent per Section 287 of the Patent Statute; or (3) do nothing and risk a Section 292 claim.
Recently published data regarding settlements of Section 292 claims have shed some light on the actual cost of settling such claims. According one source, there have been approximately 191 settlements from May 10, 2010 through March 4, 2011. The lowest settlement reported was $500 while the largest settlement reported was $350,000 with the average settlement at about $55,635. The total sum for all 191 settlements is $10.6 million.
The chart below illustrates that approximately 80 percent of the claims settle for $75,000 or less. The largest number of claims settled at between $0 and $25,000 with 70 settlements while the next largest group is between $25,001-$50,000 with 52 settlements, and the next largest group being those settlements between $50,001-$75,000 with 30.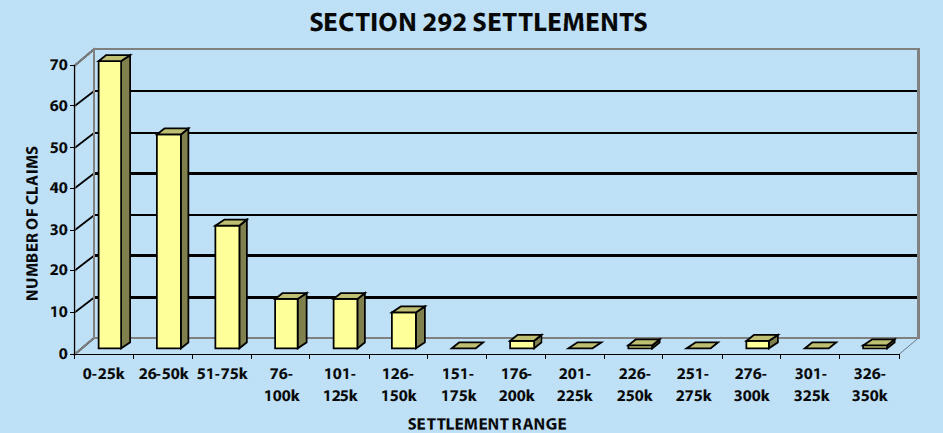 While the settlements may vary as a result of the exposure that each defendant faces or the relative difficulty of proving the requisite deceptive intent in each case, this data suggests that Section 292 claims largely are being settled at nuisance costs, i.e., costs that are less than the cost of defending the lawsuits. One implication from this conclusion is that for companies that are not sure whether existing patents cover the products marked, they should carefully weigh the cost of undertaking an expensive and time consuming effort to revamp its manufacturing process or product packaging to remove or change its patent marking in light of the likely cost of settling such claims. For companies that have learned they have products that are marked with expired patents or products that are incorrectly marked with patents, such markings should be removed as soon as reasonably practical.
Greg Cordrey, a partner in the Litigation Department of JMBM's Orange County office, focuses his practice on patent litigation. He has litigated patent cases throughout the U.S., with extensive experience in the Central District of California and Eastern District of Texas. In addition, Greg has practiced before the Federal Circuit and the United States Patent and Trademark Office as a registered patent attorney with emphasis in patent reexamination proceedings. Contact Greg at GCordrey@jmbm.com or 949.623.7236.